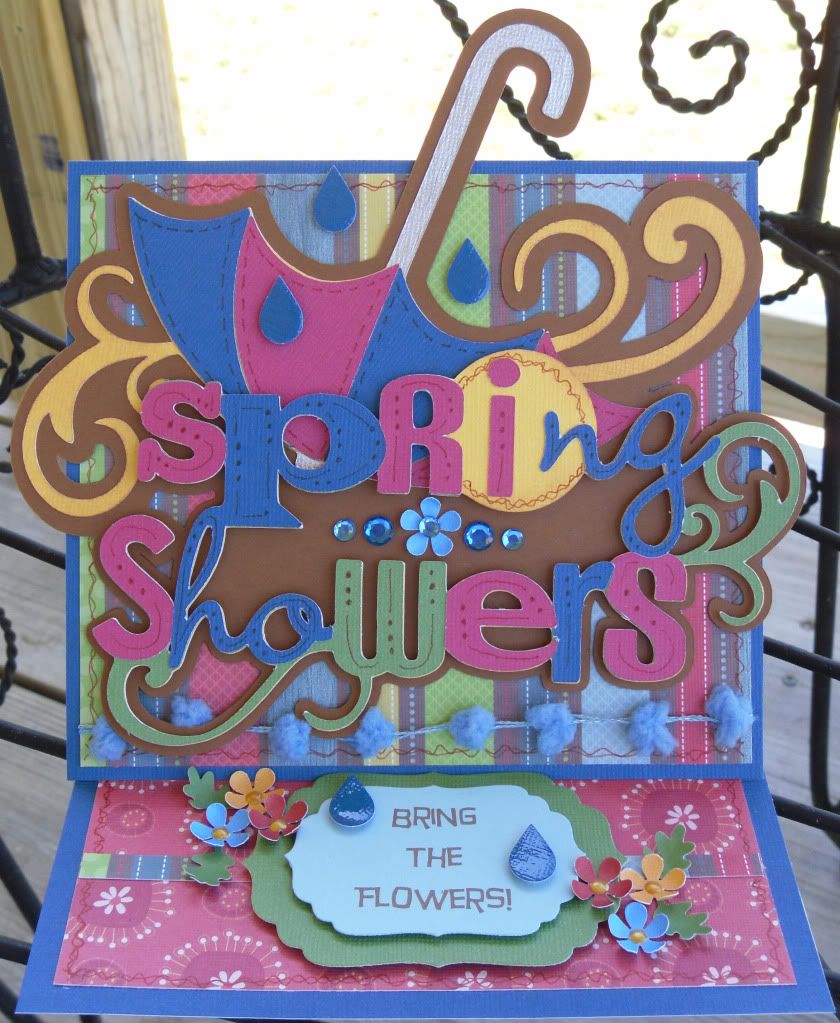 Hi everyone, long time no post (so sorry) but been busy, busy, busy! McCade was off last week for Easter break and then Ken took the week off to do some home improvements around the house and I had so many things that I wanted to get done also but can you believe it, I started a new job! I'm still at Hallmark since it's only part time but I had to do some training last week and needed to be focused since I seem to go in to many directions so I needed to concentrate so I put everything on the back burner. I'll fill you in on the new job in another post since I need to get this done quick and get to work again but as you know over at
Stuck On U Sketches
we have another challenge for you!
This week is "April Showers" and when I hear that I always think of Flowers and Umbrellas so that's what I gave you! I had a heck of a time on this Easel card (started it 3 times, can you believe that, lol) and I'm still not liking it but here it is! I used the Celebrate With Flourish cartridge on this and cut my Umbrella @ 6" and the wording is cut @ 3 1/2". My little flowers are a punch and added some Bead in a Bottle for the centers and also used my Spellbinders dies for the cut out die with the "Bring The Flowers"! Now I know the saying is April Showers Bring May Flowers but when I was little I always used to say April Showers Bring
The
Flowers!
Now make sure you check out the Gals over at
The SOUS Blog
(amazing projects, as always) so I hope you join us for the April Showers challenge!
Thank Goodness it's Friday and I have Saturday off so I hope I get a chance to get some gardening done (wish me luck, lol!)
Have a Great Weekend!
((Hugs)) and Take Care, Theresa